Recommendation: Naprapathy Manual Medicine for the 21st Century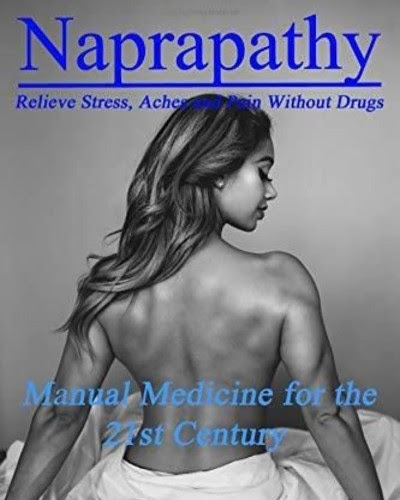 As patients of Naprapathic medicine we can personally vouch for the effectiveness of this practice!
From Southwest University of Naprapathic Medicine:
Dr. Patrick Nuzzo, D.N. and Dr. Kirsten LaVista. D.N. announce the release of their new book, Naprapathy – Manual Medicine for the 21st Century. "Few people know about the emerging practice of Naprapathic Manual Medicine, which is bringing hope and help to countless sufferers of musculoskeletal pain and dysfunction," said Dr. Nuzzo, co-founder of the Southwest University of Naprapathic Medicine with Dr. LaVista. "We hope that our book will help people understand how this old-yet-new modality of treatment can bring them relief and improve their lives."
Naprapathy – Manual Medicine for the 21st Century clearly and concisely illuminates the specialty of Naprapathy (nuh-PRA-path-y) and how it can help. This well-illustrated volume is aimed at the sufferers of pain and those who care for them, explaining in easy-to-understand terms how this manual medicine practice treats the soft tissues of our musculoskeletal body to bring relief and restored function, including to those with chronic, debilitating back pain that has been resistant to other treatment modalities.
Readers will learn the history of Naprapathy and how it is used today by practitioners to help people in all walks of life, from office workers to uniformed public service officers to professional athletes, recover from conditions and injuries that threaten to halt their lives and careers. Additionally, the book addresses how Naprapathic Manual Medicine can be the solution for many people who have grown to depend on addictive pain pills and will assist in stemming America's current opioid emergency. "This book is an outstanding resource for the lay person and clinician alike to understand the history, principals, and mission of a profession that is destined to help turn around our healthcare crisis," writes Dr. Beau Hightower, D.N., D.C., Director of the Jacksonwink MMA Academy.
Naprapathy – Manual Medicine for the 21st Century is available on Amazon.com and other online booksellers, and directly from many practitioners at their offices.
For those whose pain and disability has taken their hope, Naprapathy – Manual Medicine for the 21st Century shows how their health can be restored.